MAGIC CLEAN® HEPA AIR CLEANER 4.0
Magic Air 5 Air Cleaner 465 square feet
Description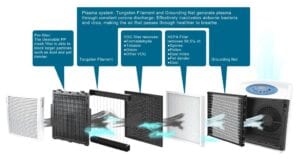 The AC-9966 features Ionizer and a Four-Stage filter assembly: Pre-Filter (PP Mesh Filter), cutting-edge Plasma Technology (Tungsten Filament + Grounding Net), VOC filter and HEPA filter. Targeted to effectively remove and kill bacteria, virus, volatile organic compounds (VOCs), odors and harmful particles, for rooms up to 465 sq.ft. Both HEPA and VOC filters are designed to operate continuously for up to 2,000 hours.
Ionizer: removes 99.97% of positively charged dust particles, pollen and small allergens.
PP Mesh Pre-Filter: traps larger air pollutants such as dust and dander.
Plasma Technology (Tungsten Filament + Grounding Net): Effectively inactivates airborne bacteria and virus, making the air that passes through healthier to breathe. Front protection net installed with high voltage Tungsten (ionization) filaments (+4kv) are the components to generate plasma through constant corona discharge. The back cover (grounding net) carries negative high voltage (-7kv) and serves as a guidance of the electrons movement and helps enlarge the electric field. This creates enough positive electricity in the field to speeds up free electrons. Energy created can ionize and separate gas molecules or atom electrons. In addition, positive corona generates much less ozone than negative corona.
VOC (Formaldehyde) Filter: Formaldehyde and other VOCs can be found in building materials, foam insulation, household products and fuel-burning appliances. They can prompt headaches, vomiting, rashes, asthma attacks and some are suspected to cause cancer. AC-9966 VOC honeycomb filter has 8.5oz of modified Activated Carbon impregnated with 8.5oz of Zeolite particles. Effectively removes formaldehyde, toluene and VOC. Factory tested: VOC removal efficiency reaches 95%, under the following conditions: 1m3 test room; initial concentration: 1.9-2mg/m3; 4hrs testing. To read more on VOCs: http://www.epa.gov/iaq/voc.html#Health Effects
HEPA Filter: A high-efficiency air filter that captures 99.5% of airborne pollutant particles as small as 0.3 microns, including spores, pollen, mold, pet dander and dust.
Learn more about your home air quality? https://topwindowfans.com/how-to-do-a-home-air-quality-test/
Features and Functions
– 4 fan speeds (Low, Medium, High and Turbo)
– Power saving DC motor: 105W on turbo
– Plasma technology
– Pre-Filter clean indicator
– HEPA and VOC filter replacement indicator
– Independent Ionizer control
– Convenient filter access for easy replacement
– Off-Timer: 1 to 8 hours
– Casters for portability
– LCD display
– Remote control
– ETL
– ARB certified (this air cleaner complies with the federal ozone emissions limit)